Eksplorasi.id – S&P Global Ratings' downgrade of Indonesia's outlook is not a reflection of fundamental economic problems, central bank Governor Perry Warjiyo said, stating that policy steps taken in response to the coronavirus pandemic will help to restore the nation's financial trajectory.
The comments from the Bank Indonesia chief come after S&P cut its outlook for the nation to negative from stable, while affirming its long-term foreign currency debt rating at BBB, the second-lowest investment grade score. The change was to reflect "additional downside risk to the government's fiscal and external metrics" from the pandemic, S&P said on Friday.
"The lingering economic and financial uncertainty is a global phenomenon and Indonesia is one of many countries that have taken policy responses in the area of fiscal, monetary and financial policy to mitigate the negative impact of the spread of COVID-19," Warjiyo wrote in a statement.
The various policy steps taken by authorities "will be able to restore Indonesia's economic trajectory, in terms of growth, external, and fiscal towards a more sustainable level in the not too distant future," he added.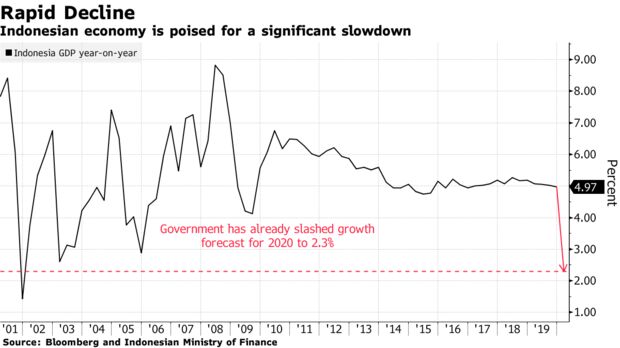 Indonesian policy makers have announced a series of emergency measures in recent weeks as the coronavirus pandemic takes a toll on the economy. President Joko Widodo has unveiled stimulus packages worth $28 billion, boosted Bank Indonesia's powers and suspended a budget deficit cap to allow the government to boost spending. The central bank has cut rates twice this year and intensified its intervention in financial markets.
The move to suspend the fiscal deficit cap was seen as an "extraordinary" measure and "in response to a highly unpredictable, exogenous shock," S&P said. Indonesia's external position "has weakened following considerable depreciation of the rupiah, and the government's debt burden will be materially higher over the next few years owing to strong counter-cyclical fiscal measures," it added.
The pandemic is seen slowing economic growth in Southeast Asia's biggest economy to 2.3% this year, compared with an initial estimate of 5.3%, Finance Minister Sri Mulyani Indrawati said at the start of this month.
Turning to unconventional tools, Bank Indonesia may start buying sovereign bonds directly from the government as early as next week — the first time it would be doing so.
The central bank is in the final stages of completing an agreement with the Finance Ministry that will allow it to buy rupiah-denominated bonds as a non-competitive bidder in the primary market, Warjiyo told reporters Friday.
Sources : Bloomberg