Eksplorasi.id – Newmont Mining Corp. beat earnings estimates by more than 50 percent as the world's second-largest gold producer churned out more of the metal at lower costs and sold it at higher prices.
Second-quarter net income fell to 4 cents a share from 14 cents a year earlier, the Greenwood Village, Colorado-based said Wednesday in a statement. Profit excluding a tax deferral and other one-time items was 44 cents a share, exceeding the 29-cent average of 16 analysts' estimates compiled by Bloomberg.
Gold posted the best first half in almost four decades as economic uncertainty and global fears — including fallout from Britain's decision to leave the European Union — stoked expectations interest rates will remain low for longer. Gold futures rose 5.8 percent from a year earlier to average $1,262 an ounce in the second quarter.
Newmont's all-in sustaining costs were $876 an ounce compared with $909 a year earlier and the average of three estimates for $960. Gold output was 1.29 million ounces, more than both the 1.24 million produced a year earlier and the average estimate for 1.18 million.
'Positive' Results
The results were "positive," even as net profit was held back by an increase in deferred taxes, Barry Allan, an analyst at Mackie Research Capital Corp. in Toronto, said in an e-mail Thursday. Had the deferral been included in adjusted earnings, the 44 cents-a-share profit would have been about 36 cents, he said. Even with that, the company topped forecasts on production, costs, adjusted EPS and cash flow, he said.
The quarterly report should be considered "neutral," as Newmont's higher free-cash flow was also boosted by $288 million in deferred taxes, Andrew Kaip, an analyst with BMO Capital Markets, said in a research note.
New production from the Cripple Creek and Victor mine in Colorado and higher production at the Tanami, Kalgoorlie and Ahafo mines more than offset declining production at Yanacocha and the sale of Waihi, the company said. Newmont, which has operations in the Americas, the Asia-Pacific region and Africa, has been working to lower costs and increase production after gold fell for three years before the 2016 rally.
Adding Ounces
The company expanded through the down cycle, buying CC&V for $820 million in 2015. In an interview this month, Chief Executive Officer Gary Goldberg said Newmont expects to add 1 million ounces to gold production, at all-in sustaining costs of $700 an ounce or less, over the next two years.
Second-quarter revenue increased 6.8 percent to $2.04 billion, beating the $1.91 billion average estimate.
"Consistently strong operational performance has given us the means to strengthen our portfolio and balance sheet, and position Newmont to continue outperforming," Goldberg said in the statement. "We have also been able to reduce our net debt by nearly 50 percent since 2013."
The results were released after the close of regular trading on Wednesday in New York. Newmont rose 1.9 percent to $40.05 on Thursday before markets opened in New York. The shares have more than doubled this year.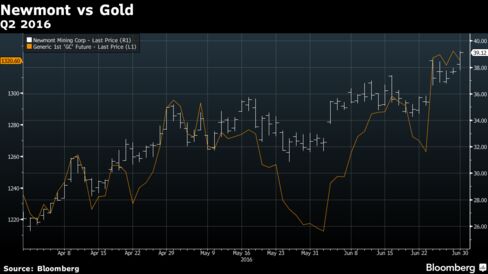 Newmont, the largest gold producer after Barrick Gold Corp., lowered its guidance for capital expenditures slightly to a range of 1.1 billion to 1.3 billion for 2016. The previous top end had been $1.4 billion. All-in costs are expected to improve to a range of $870 to $930 an ounce in 2016, holding relatively steady at $850 to $950 in 2017.
The improved outlook includes the impact of the sale of Newmont's stake in the Batu Hijau copper-and-gold mine to an Indonesian consortium, the company said. In the July 6 interview, Goldberg said he expects the deal to close in 60 to 90 days.
The company has cut its debt this year by more than $600 million. It said it remains on track to repay $800 million to $1.3 billion of debt between 2016 and 2018, targeting the highest rates and nearest-term maturities first.
Newmont left its quarterly dividend unchanged at 2.5 cents a share, where it's been since 2014.
Eksplorasi | Bloomberg