Eksplorasi.id – Goldman Sachs Group Inc. is forecasting that steel consumption in China will shrink again from next year after a brief respite in 2016, and the nation's iron ore imports will eventually start to decline too as policy makers shift the economy away from investment.
Steel demand will contract 2 percent in 2017 and a further 2 percent in 2018 following a 1 percent expansion this year, Goldman said in a report received on Friday that summarized results of new modeling. China's steel consumption may end up dropping as much as 20 percent, according the bank.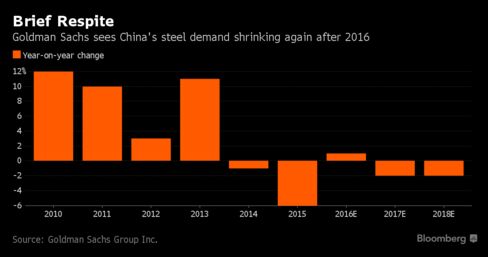 Asia's top economy accounts for about half of the world's steel production, and the prospect of weakening demand for the alloy, as well as lower imports of iron ore, represents a challenge for miners including Rio Tinto Group, BHP Billiton Ltd. and Vale SA. While the biggest low-cost producers have managed in recent years to expand seaborne sales into China as local mine output was displaced, Goldman's outlook raises the prospect of a shrinking market.
 "Demand for imported iron ore has benefited from the closure of domestic mines and the strength of Chinese steel exports earlier this year," analysts Hui Shan, Amber Cai and Christian Lelong wrote in the report dated June 30. "But neither of those trends is sustainable and falling steel consumption will eventually lead to a decline in iron ore imports," it said.
Ore Price
Ore with 62 percent content delivered to Qingdao was at $55.66 a dry ton on Thursday, according to Metal Bulletin Ltd. Prices have gained 28 percent in 2016 after dropping for three years. Goldman Sachs left its long-run forecast unchanged at $35 a ton.
China imported a record 953 million tons of iron ore in 2015, up from 933 million tons in 2014 and 619 million tons in 2010, according to customs figures. In a separate June 15 note, Goldman forecast China would import 971 million tons this year, then see shipments little changed at 975 million tons in 2017, before dropping through 2020, when they would total 904 million tons.
Australia's government has signaled it expects China's iron ore imports will plateau from next year as steel output declines, while the country's top miners have said they see steel production still rising. Overseas iron ore purchases may climb to 1.03 billion tons in 2017 and hold at about that level over the next five years, according to the Department of Industry, Innovation & Science.
Rio's View
Rio, Australia's largest exporter, has said it expects China to be churning out about 1 billion tons of steel by 2030, while BHP, the second-biggest, projects that output will peak at between 935 million and 985 million tons in the mid-2020s. Last year, China produced 804 million tons of steel, official data show. It takes about 1.6 tons of iron ore make 1 ton of steel.
Steel consumption in China is declining for the first time in a generation as growth slows and policy makers seek to steer the economy toward consumption. Faced with declining local sales, Chinese mills have shipped record volumes overseas, helping to prop up purchases of seaborne ore. This year's uptick in steel demand came after China added stimulus.
"The ongoing growth deceleration and rebalancing away from the old economy implies a secular downward trend in steel demand," the bank said in the latest report. "At the same time, economic activity and steel consumption respond to periodical policy shifts that generate credit impulses and mini-cycles."
Eksplorasi | Juta | Bloomberg