Eksplorasi.id – Facing the likelihood of its first full-year economic contraction in 25 years, Nigeria is contemplating a rare sale of stakes in the oil and gas industry, the country's biggest foreign-exchange earner.
President Muhammadu Buhari's economic advisers are working on a plan "to generate immediate large injection of funds into the economy through asset sales, advance payment for license rounds, infrastructure concessioning," to help deal with the slump in crude revenue, Budget Minister Udoma Udo Udoma said in a Sept. 24 statement.
The ministry of Petroleum Resources is examining what energy assets could be sold, Udoma's spokesman, James Akpandem, said last week.
Battered by low oil prices and a dearth of foreign investment, Nigeria's economy will probably shrink in 2016 for the first time in 25 years, according to the International Monetary Fund, which forecasts a 1.8 percent contraction.
A 15-month currency peg, fuel and power shortages and a slump in crude production, have cut output. The country's foreign-exchange reserves have fallen by more than a third since the end of September 2014 to $24.8 billion.
"There's certainly a sense of urgency," with the government considering the privatization of upstream assets, Rolake Akinkugbe, head of energy and natural resources at Lagos-based FBN Quest, said by phone. "It's a fundraising strategy primarily," triggered by the dire economic circumstances, she said.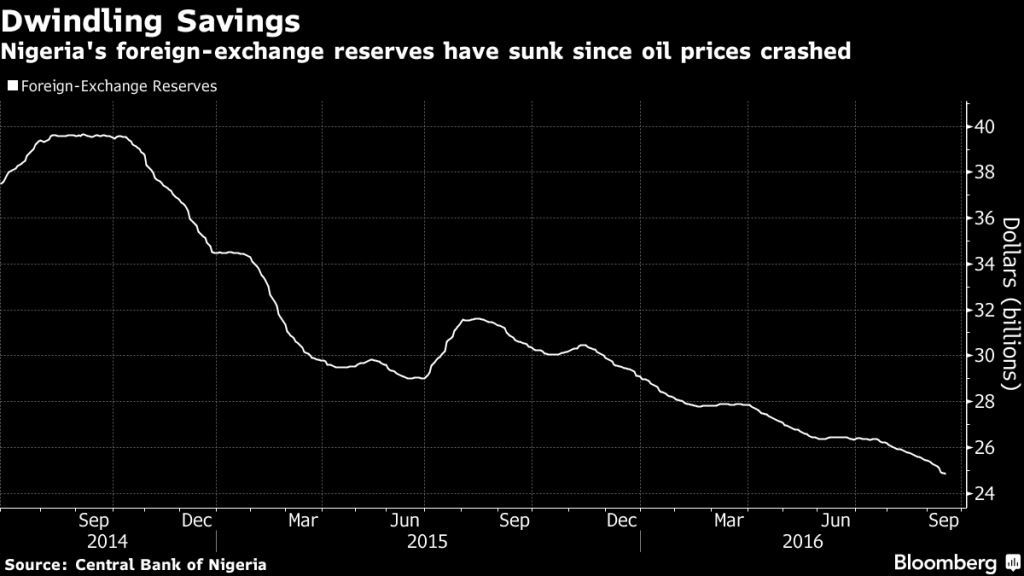 Nigeria has an average 55 percent stake in joint ventures run by Royal Dutch Shell Plc, Exxon Mobil Corp., Chevron Corp., Total SA and Eni SpA.
These account for about 90 percent of Nigeria's oil production, which generates roughly two thirds of government revenue. The state also owns 49 percent of Nigeria LNG Ltd, a multibillion-dollar company which operates Africa's biggest liquefied natural gas plant.
The sale of such stakes, augmented by offshore borrowing, would help the country raise the $15 billion that is needed to revive the economy, Africa's richest man, Aliko Dangote, said in an interview with Bloomberg TV on Sept. 22.
Repurchase Clause
The last time Nigeria sold a stake in an oil joint-venture was in 1993 to Elf, now Total, under the regime of general Ibrahim Babangida. If the authorities decide to proceed with the privatization of energy assets "it will ideally be to the existing partners who wish to increase their share," Udoma's spokesman, Akpandem, said. Any such deal would include a repurchase clause, he said.
"We're looking at this very feverishly because the other alternative is to go mass borrowing," State Minister for Petroleum Resources Emmanuel Kachikwu said in an interview last month.
"But there's a limit to your borrowing cap and we're fairly close to that tipping point where you really can't borrow anymore otherwise you can't sustain the borrowing. The other thing to look at is your assets and rights that can be turned into cash."
Buhari approved a 6.1 trillion naira ($19.4 billion) budget for this year and said he expected the government to raise about $5 billion from the Eurobond market and multilateral lenders.
Higher borrowing costs and the loss of almost half of the revenue projected for this year could push Nigeria's debt service-to-revenue ratio above the projected 35 percent, according to documents from the budget and national planning ministry.
Dangote has recommended the state parts with some of its shares in NLNG, jointly owned with Shell, Total and Eni and former central bank governor Muhammadu Sanusi II said last week that asset sale could be done without hurting the government's strategic interests and would give incentives to private investors.
Senate President Bukola Saraki has also advocated for the sale of oil and gas stakes and the privatization of airports and refineries. However, the Senate as a whole rejected on Monday the sale of national assets. Oil workers' Pengassan union as well as Nigeria's Labour Congress have warned they would strike over such privatizations.
Unfavorable Timing
Nigeria is likely to do away with those oil fields where it has struggled to meet its share of capital contributions, leaving it with arrears of about $6 billion, FBN Quest's Akinkugbe said.
The timing though, with oil prices at about half their 2014 levels and insecurity in the Niger River delta where militants are sabotaging oil and gas infrastructure, may not be right, according to Ayodeji Dawodu, a research analyst at Lagos-based Investment One.
"If it is because the economy is in an emergency, and you're able to put in a buy-back clause, then it may be justified," he said by phone. "There has to be a trade-off and they should know what they're trading off."
The government would also be in a position of "weakness," Antony Goldman, head of London-based risk advisers PM Consulting, said by phone. "If you tell potential buyers that you're desperate for cash, you're not likely to get value for money."
Source : Bloomberg